Notary Signing Agent Code of Professional Responsibility and how it applies to all Notaries
Oct 12, 2023
Today on 'Thursday's Thinktank' we want to focus on the Notary Signing Agent Code of Professional Responsibility created by the Signing Professionals Workgroup. This is a much needed and very important document.
The Notary Signing Agent Code of Professional Responsibility is designed to guide the conduct and ethical behavior of notary signing agents, specifically those who handle loan signing and real estate transactions. However, the principles outlined in this code can also be beneficial for notaries who primarily engage in general notary work. Here's why:
1. Promotes Ethical Conduct: The Code of Professional Responsibility emphasizes ethical behavior and integrity in notarial actions. These values are universal and apply to all notaries, whether they specialize in loan signings or general notary work. Upholding ethical standards enhances a notary's credibility and trustworthiness in the eyes of their clients.
2. Protects the Notary's Reputation: Following a code of ethics ensures that notaries consistently provide reliable and honest services. Even when performing general notary work, maintaining a good reputation is vital. A positive reputation can lead to repeat business and referrals, which are crucial for any notary's success.
3. Encourages Continued Professional Development: The code encourages notaries to stay informed about relevant laws and regulations and to participate in ongoing training. This is beneficial for all notaries, as it ensures that they remain knowledgeable about the notarial processes and can adapt to any changes in their field.
4. Strengthens Customer Trust: Clients seeking notary services, whether for loan signings or general documents, want assurance that their documents are handled professionally. By adhering to the code, notaries demonstrate their commitment to maintaining the highest standards, which can instill confidence in their clients.
5. Reduces Legal and Ethical Risks: The Code of Professional Responsibility outlines best practices to reduce the risk of fraud, forgery, and negligence in notarial acts. These guidelines can help notaries avoid legal complications and potential liabilities, which are concerns for notaries in both loan signing and general notary work.
6. Sets a High Standard for the Industry: By adhering to the code, notaries contribute to the overall professionalism and reputation of the notary industry. This benefits notaries across the board, as it helps shape a positive public perception of the profession.
In conclusion, the Notary Signing Agent Code of Professional Responsibility promotes ethical conduct, professionalism, and trustworthiness, making it beneficial for all notaries, even those primarily engaged in general notary work. It provides a framework for upholding the highest standards of notarial practice and helps notaries build and maintain a strong reputation, reduce risks, and gain the trust of their clients, regardless of the nature of the notarial services they offer.
Below are the Guiding Principles of the Code. Each Thursday we will focus on one point from the code in greater detail.
Wishing you much success!
Dena and Melissa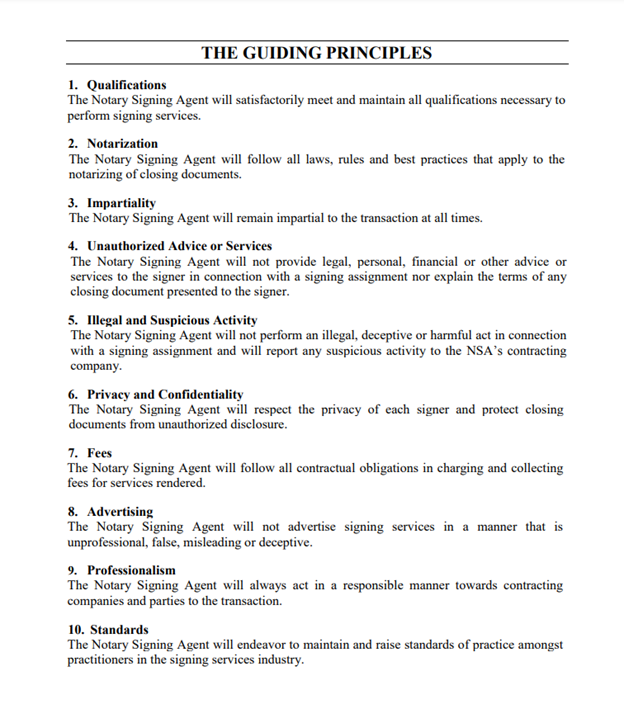 Notary Fundamentals Course
Notary Fundamentals
Notary Know How will teach you the Fundamentals you need to know to perform your duties as a Notary Public in Alabama with accuracy, professionalism and confidence. This course will teach you:
A Notary Public's Duties and Responsibilities
A Notary Public's Powers and Authority
How much you can charge per Notarization and how you can make more than that
About the three main types of Notarial Acts and certificates that go with them
Your Notary Seal and the importance of keeping it safe
things that can land you in jail
Don't miss a beat!
New moves, motivation, and classes delivered to your inbox. 
We hate SPAM. We will never sell your information, for any reason.